at the Gaststätte Schwarzbach, Dürrlewangstraße 70, 70565 Stuttgart.

Our club normally meets at 1900 (7:00 PM) the first Tuesday of every month at the Gaststätte Schwarzbach in Stuttgart-Vaihingen. (In December the first Friday/Saturday, because of our Christmas Party.)
Free raffle prizes for all attending members.
Guests and TDY personnel always welcome!
Driving Directions
For those who have navigation systems: Dürrlewangstraße 70, 70565 Stuttgart, Germany
Or use the driving directions of Google Maps
Directions from Patch Barracks:
Turn right and take the Hauptstraße into Vaihingen. At the light at the Schwabengalerie shopping center intersection, turn right onto Robert-Koch-Straße. At the 3rd light, turn left going under the overpass (train tracks) onto Liebknechtstraße. As the road curves left, take the first right at the first Sportplatz sign. Go straight to the T intersection and turn left into the Schwarzbach Gaststätte Sporthalle parking lot.
Public Transport / Footway Directions
Next public transport station is Bahnhof Stuttgart-Vaihingen. (Stop of some trains, the S-Bahn S1, S2 and S3, some buses, and terminal stop of the U-Stadtbahn U1, U3 and U12.)
Footway from Bahnhof Stuttgart-Vaihingen to Gaststätte Schwarzbach:
1. Look across the tracks for the Europcar sign. That is the direction that you want to go. There is a tunnel under the tracks. It is located between the U-Bahn and S-Bahn parts of the station.
2. Walk around the building that the Europcar office is in till you see the street and the tall buildings across from it. To the left of those tall buildings, just past the bus stop, is a small street with houses on the left side of it called Doggerstraße. On the fence for the house on the corner, there is also a yellow sign for the Sport Insel, which is very close to the restaurant.
3. Walk down Doggerstraße and cross the next street, Heßbrühlstraße. You still follow the signs for the Sport Insel.
4. Continue past the Sport Insel just a little. You will come to a T-intersection. Turn right and go into the parking lot, which is for the restaurant. The entrance is the door to the right between the two buildings.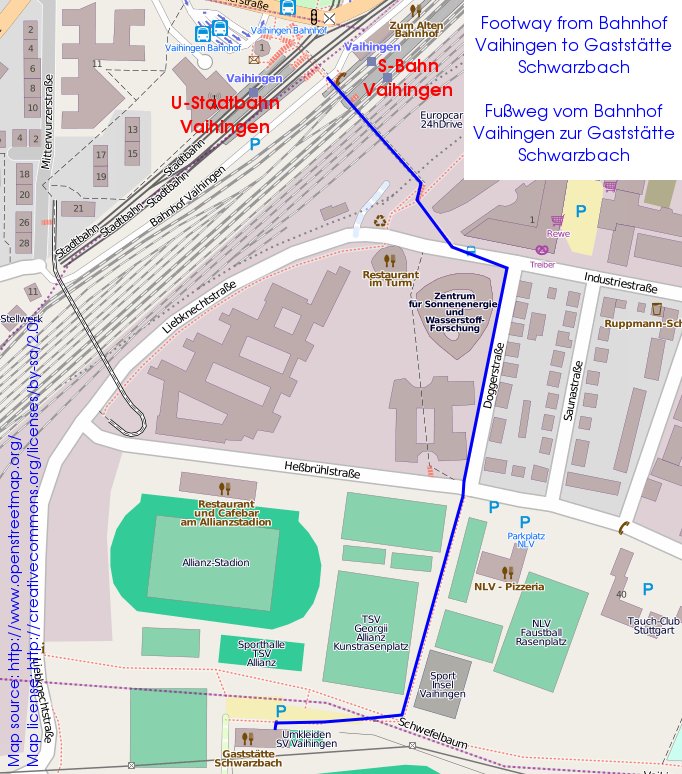 Complete list of upcoming Club Meetings